Hopefully in the Nehalem preview Anand is telling the truth when he says that it was done without Intel's knowledge because Anandtech fumbled badly with this introduction. Clearly Anand is not someone to trust to carry your fine crystal.

June 5, 2008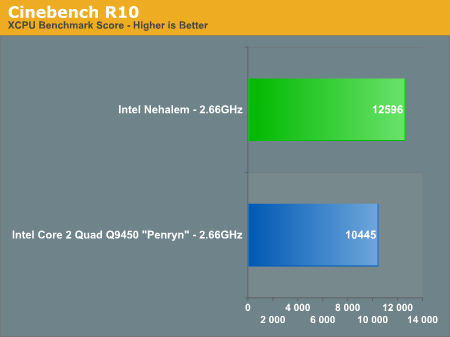 Taken at face value the above scores show an impressive 21% increase in speed for Nehalem.

April 23, 2008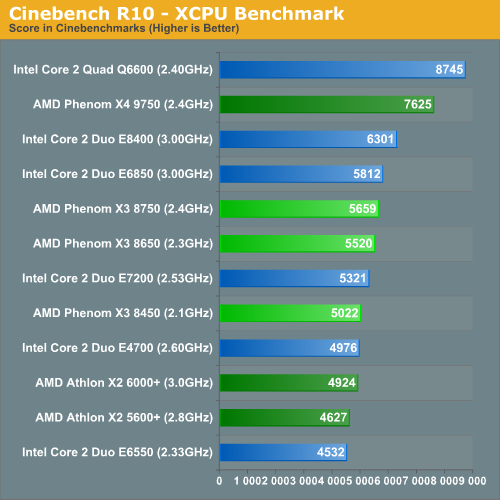 However, note that while the Q6600 score goes up 98 points from March to April the score for Phenom 9750 goes down 54 points.

March 27, 2008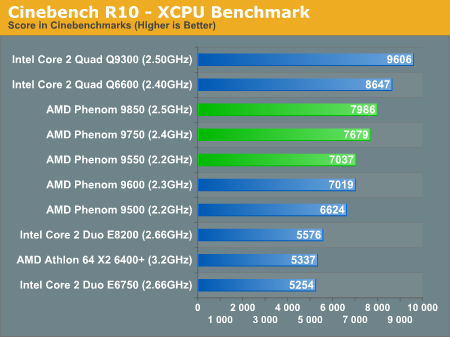 And even more strange is that the score for Q9450 was 980 points higher back in February. If this number is accurate then Nehalem's increase is reduced to 10%.

February 4, 2008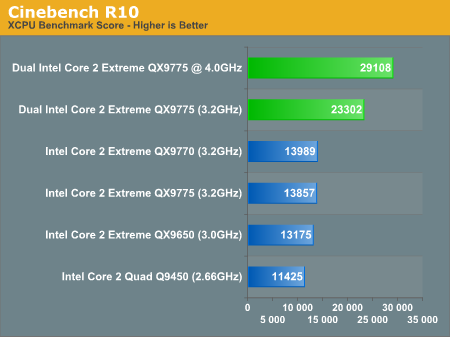 However, even a 10% cumulative gain would be very nice on top of the gains we've seen for C2D and Penryn. Unfortunately, the single threaded scores are not quite as impressive.

June 5, 2008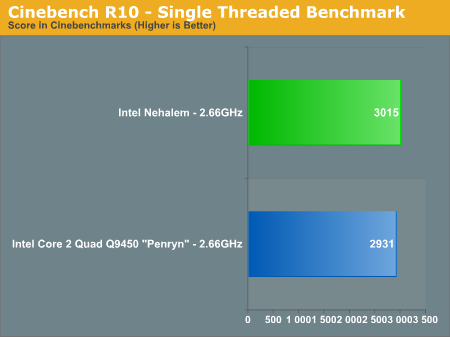 This would be an increase of only 3% for Nehalem.

February 4, 2008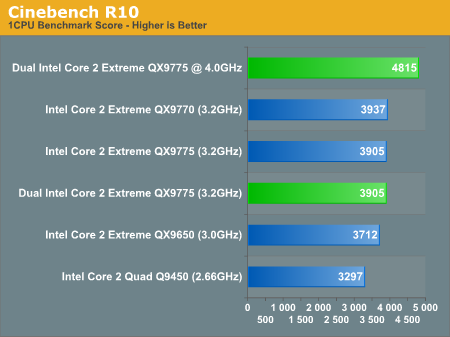 However, the score from February was 366 points higher. If this score is correct then Nehalem would be 9% slower.

Anand is now claiming that the reduction in speed is due to a Vista update. We can check this easily enough and see if the drop in speed is consistent.

3Dsmax 9 - 21% slower
Cinebench XCPU - 9% slower
Cinebench 1CPU - 11% slower
Pov-Ray 3.7 - 13% faster
DivX - 8% faster [version change from 5.13 to 5.03]

Well, this isn't exactly consistent. 3Dsmax shows twice the slowdown of Cinebench while Pov-Ray gets faster. DivX gets faster too although this is less definitive since Anand shifts to a slight older version.

Conclusions (or perhaps Confusions):

Penryn is 21% faster when using all threads, or . . . it is only 10% faster.

Penryn is 3% faster with single threads, or . . . it is 9% slower.


I am looking forward to seeing some proper testing of Nehalem. I'm sure most are anxious to see Nehalem compared with AMD's 45nm Shanghai. I have no doubt that Nehalem is much stronger in multi-threading than C2D. I believe that Intel did this with the goal of stopping AMD from taking server share. However, this is a double edged sword since gains for Nehalem will surely be losses for Itanium.

It remains to be seen if Nehalem fairs better in benchmarking than Penryn. Penryn benefited from code that used lots of cache and was predictable enough for prefetching to work. Nehalem however has far less cache but is also much less sensitive to prediction because of the reduced memory latency. Nehalem is also much more like Barcelona in that L3 has much higher latency than L2 making the bulk of Nehalem's cache much slower than it was with Penryn. One would imagine that Nehalem's preference in program structure would be much closer to Barcelona's preference than Penryn's has been. Comparisons later this year should be interesting.